Drag Race Reacts to the New Avenger's Trailer
Step aside Justice League and let Marvel's Avengers show you how it's done! Your favorite Marvel super heroes reunite on the big screen with the much anticipated Avengers Infinity War! The 2:25 trailer, released November 29th already has over 85 million views! And, it's giving us ALL THE RIGHT FEELS! Here's 10 relatable RuPaul's Drag Race reactions to the trailer.
Which reaction did you have? Tell us in the comments below!
WARNING: If you haven't seen the trailer, STOP READING THIS! CLICK HERE TO WATCH THE TRAILER! DO NOT SCROLL DOWN UNTIL YOU WATCH THE TRAILER!
1. When the first few seconds get to you but you remember not to loose your chill.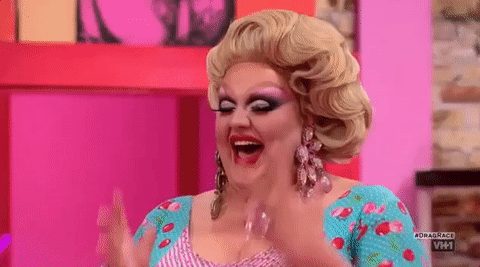 2. Seeing Black Widow's new blonde hair. Not sure how I feel about this yet.
3. When the famous Marvel Comic intro and the Marvel Studio logo appear on screen
4. Alright LOKI!!!! I SEE YOU!
5. THANOS!!! I have no words! Literally.
6. Can we talk about Spider-Man's new costume?!
7. Captain America and his wonderful facial hair! YAS! GET THIS MAN HIS SHIELD RIGHT NOW!
8. NOOO!!!! The Infinity Stones!!!
9. That charge though! Keep going! Do NOT Stop on GO!
10. Who is Thor talking to?.... WAIT! OH MY GOSH!!!!!! That's it, I'm done!!!!
I'll be taking a nap until the movie comes out, so you can wake me up on May 4, 2018!
Which reaction did you have? Tell us in the comments below!
#Avengers #Marvel #movietrailer #Disney #Thor #Loki #BlackWidow #IronMan #CaptainAmerica #Hulk #GuardiansoftheGalaxy #Spiderman #JusticeLeague #ScarletWitch #ElizabethOlsen #InRage #InRageEntertainment #rupaulsdragrace #rupaul #Nebula #Thanos #NatashaRomanoff #Mantis #WandaMaximoff #PeterParker #StarLord #PeterQuill #SteveRogers #TonyStark #BuckyBarnes #WinterSoldier #T39Challa #BlackPanther #DrStephenStrange #Gamora #Hawkeye #Drax #HappyHogan #Okoye #Vision #AntMan #BruceBanner #Groot #RocketRaccoon #PepperPotts #TheCollector #WarMachine #KarenGillan #JoshBrolin #ScarlettJohansson #TomHiddleston #PomKlementieff #ChrisHemsworth #TomHolland #ChrisPratt #ChrisEvans #RobertDowneyJr #SebastianStan #ChadwickBoseman #BenedictCumberbatch #ZoeSaldana #JeremyRenner #DaveBautista #DanaiGurira #PaulBettany #PaulRudd #MarkRuffalo #VinDiesel #BradleyCooper #GwynethPaltrow